At sunrise Candace and I shoved off from League city. In our little C&C 24' boat. After motoring out of Clear Lake we put our sail up in dead air. The forecast was bad weather and it came up pretty quickly. It was a close reach up to the entrance into the Houston ship channel. The wind and rain were increasing so we dropped sails and motored as we entered ship channel. Movement there is pretty restricted, even for a small boat. Near redfish island, leaving the ship channel, the depth can go from 35ish feet to less than 5 feet in 20 yards.
The tankers and barges are huge, going really fast, and get really close to you.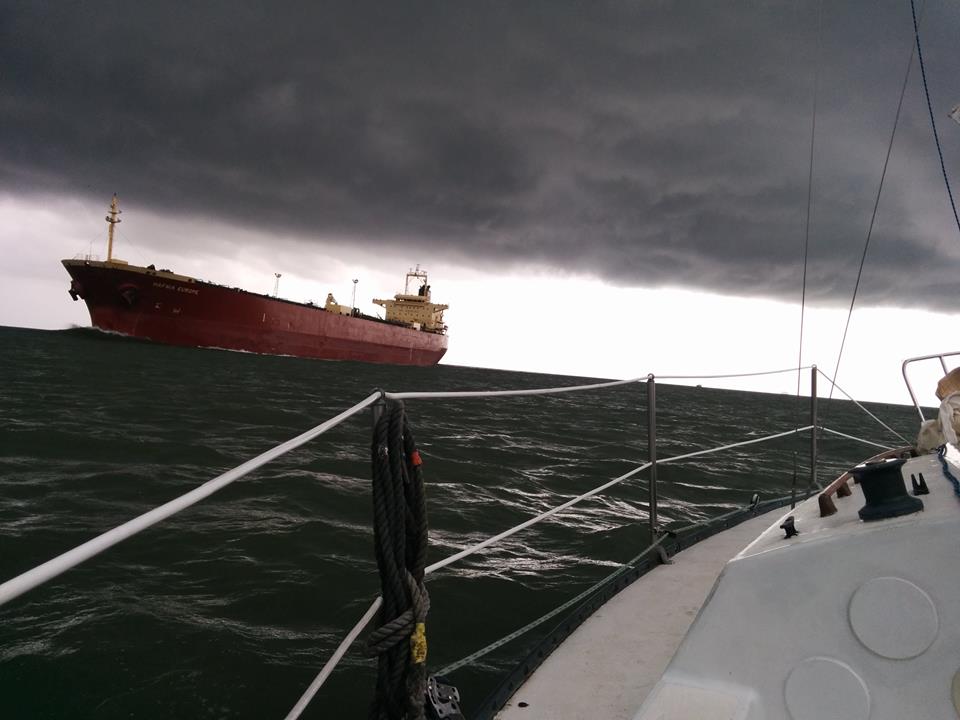 We motored through the ship channel, making way for larger vessels as they came. I'm not sure what the seas were, maybe 2-3 feet. Some waves were washing over our bow. The pounding of the bow into oncoming waves was so loud, It sounded like the waves would just burst through the hull every time we rode up a wave and crashed into the next one. But the little boat held together fine.
The seas calmed down in the lee of galveston island. There is a lot of traffic here where the Inter Coastal Waterway (ICW), Texas City Channel, Houston Ship Channel, and Galveston Channel all come together. With Ferrys running back and forth from Bolivar peninsula to Galveston Island. Navigating through here went mostly okay except for when we accidentally played chicken with a ferry until he gave us one short blast (meaning he was altering his course to starboard). But he went to port instead.
In the Galveston channel we pulled into the yacht club where I ran the boat aground for the first time. We didn't hit the ground very hard. I was able to free the boat just by putting the engine in reverse, it only took a few seconds to get free.
We tied off at the end of a dock in the yacht club which seemed like it was for live aboards but was mostly empty. The dock was gated, but could be easily climbed around. We went onshore to the yacht club office, they said they had transient slips available. Slip E33 was open and it was $2 per foot per night. For some reason I was under the impression they would let us stay for free. So we said no thanks and went back to the boat.
Now we had to decide what to do. Pay for E33? Go to slip E33 and pretend like we paid for it? Stay where we are for the night? Find a new place? We stayed. I asked the guy in the next slip "is it alright if we tie off here for the night" he said "It looks like as good a place as any". So we squatted where we were. To finish the day we jumped in a closed over-chlorinated apartment pool for a shower.